Patrons in 2016:
European
Parliament
Cardinal Rainer
Maria Woelki
Creating Beauty
Setting Out Anew for the Ends of the Earth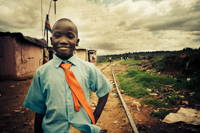 Among the ends of the world Pope Francis talked about there are also the poorest places of the Earth, where misery, war and hunger jeopardize the human dignity.
Can faith really affect reality till finding answers to these great challenges? What are the factors that generate development? Can third-sector organization like AVSI really reach results, or is it just a form of assistance, of "distributing crumbs"?
This exhibition introduces us to three different realities: a group of schools of Kenya, founded to offer quality education to the poorest youths; a centre for nutritional education in São Paulo based on the responsibilities of the parents and on the familiar and social bonds; a new form of children education in the suburbia of Quito, aimed at enhancing the individuals and their resources poverty too often burdens.
Through beauty, this realities become the place for a new beginning for youths, mothers, fathers, families and, therefore, for whole communities.
The braveness of the Church in the last steps that separate us from the "different" is what offers the surprise of a humanity that blooms again: the meeting with somebody that tells us "you are worthy". And life changes, a new journey starts.
Humanity and talents that would be otherwise buried by poverty stood up from the waves of history, and became a symbol of hope: the only real possibility for a sustainable development.
Curators: John Waters and AVSI foundation.
The White Rose: Faces of a Friendship


The White Rose group are remembered for their heroism and resistance in inhuman times. It is easy to overlook the fact that its members were ordinary people. Their time at university, at work, in their families was spent seeking out the depths of the world and of life. Drawn by the beauty of life, literature and the arts, nature and sports, these students and professors met at Munich University and became friends.
"You will have heard of the circle of friends I have brought together here. If you could see their faces, they would make you glad. All the energy one spends there flows back into ones heart, undiminished." (Letter of Hans Scholl, 12 January 1943)



Their question was "why": what is the meaning of beauty, freedom and decision; why is it worth loving reality? These questions were the fruit of a friendship that was an education in the truest sense. The 27 panels of this exhibition give these friends a voice, and bring the meaning of their friendship to the fore.
Conversations with the surviving witnesses, alongside innumerable unpublished photographs and extracts from correspondence form the content of this exhibition that has been shown at many schools and public events in Europe since opening at the Universities of Munich and Freiburg in 2005.
The curators are professionals and students in cooperation with "Kulturinitiative Freiburg". Further details can be found at kultour.innovativ.